FROM MAGAZINE : Ghana the new avenue in West Africa
With burgeoning opportunities, Ghana has become a great place to do business. The formation of the Ministry of Business Development clearly demonstrates the country's ambition and growth potential. Shalini Nair writes on some of the recent development in Ghana's transport infrastructure that is making this West African
With burgeoning opportunities, Ghana has become a great place to do business. The formation of the Ministry of Business Development clearly demonstrates the country's ambition and growth potential. Shalini Nair writes on some of the recent development in Ghana's transport infrastructure that is making this West African country a very attractive destination for trade and commerce.
The first sub-Saharan nation to break free from colonial rule in 1957, formerly known as the Gold Coast – 'The Republic of Ghana' is Africa's second-biggest gold and second-largest cocoa producer. Cogently, Ghana has vast resources from which it can earn considerable revenue through exports. The export volumes of Ghana comprises of crude oil, gold, cocoa beans, cocoa butter and several different types of perishables from fruit and vegetables, to dried fish and food products. Ghana is also a large importer of refined petroleum and rice.
Although the efficiency of Ghana's customs clearance procedure is not exceptional, it has improved consistently since 2007. With more than 25 million people, Ghana is one of the fastest growing economies in Africa, ranked 88th out of 160 countries on the latest World Bank's Logistics Performance Index (LPI) 2017.
Ghana export products are channeled through its two principal seaports – Tema and Takoradi. The turn-around-time (TAT) at these ports is one of the fastest in West Africa and as such, many importers and exporters prefer to dock their ships here. The government has committed to improving rail infrastructure and logistics in eastern and central areas, and is also focusing on improving western links to the port of Takoradi. The recent development activity at Tema Port undertaken by Meridian Port Services (MPS) will also lead to a massive expansion of port's capacity and infrastructure. The project will allow Tema Port to accommodate some of the world's largest container ships and improve cargo handling services and capacity. These improvements will enhance the port's competitiveness and position it as a leading maritime hub in the West African region. MPS has made its first $100 million drawdown out of $667 million Tema Port project from International Finance Corporation (IFC), a member of the World Bank Group. Tema's current focus is catering mainline services from Far East, Europe, India and Middle East.
Speaking on Ghanaian economy's growth, Vikyath Kumar, director sales, Hapag-Lloyd Africa – Durban, stated, "Ghana is developing at a very fast pace. 2017 represented a year-on-year growth of 8.5 percent. From a carrier perspective, imports and exports are expected to grow by 5 to 6 percent in a couple of years, possibly accelerated by the new port in Tema."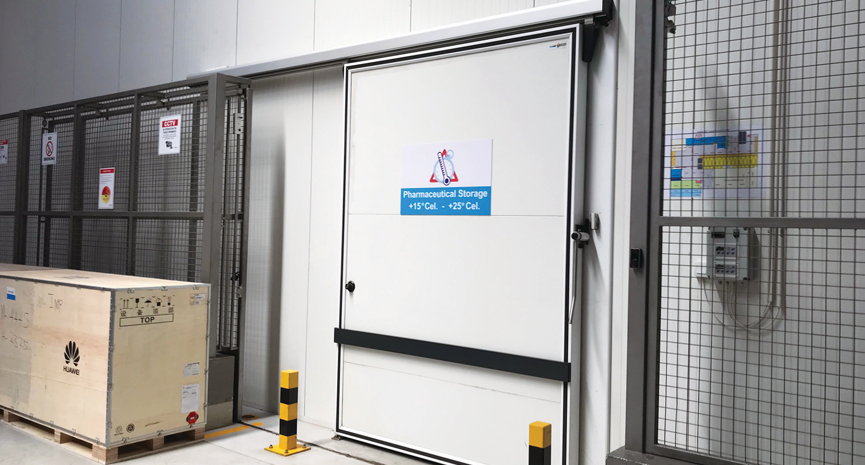 The Trade Promotion Council of India (TPCI) who has been closely working with Ghana National Chamber of Commerce (GNCC) feels that there are quite a number of best business opportunities for Ghana in 2018 for someone who wants to venture into the world of business. Mohit Singla, chairman, TPCI opined, "The current bilateral trade between India and Ghana stands at $3billion. The investment is targeted to increase to $5 billion by 2020, as per official discussions. Currently, active Indian investors invest into agri and food processing, palm oil, jute, cocoa processing, pharmaceutical and solar sectors. Indian-owned firm's $30 million investment aims to revive agriculture in Ghana."
Prospective market
Commenting on Ghana being a potential market for import and export, Chris Goodsir, country manager, Swissport Ghana stated, "The import market has improved compared to 2017, Swissport has experienced a high growth of imports on average of 27 percent due to the increase in the oil and gas equipment. The increase in oil and gas equipment is a result of the recent win by Ghana over the maritime border dispute between Ghana and Côte d'Ivoire. Businesses are beginning to trade again after a slow 2017 and the results over the last couple of months indicate a bright 2018 ahead. The export markets have seen a steady growth this year so far. The mango exports have been extremely positive in the past couple of months and even with transiting mangoes from Burkina Faso to Europe. The recent vegetable ban being lifted by the EU will result in an increase in vegetables from Ghana but the indications might be slow to begin with, whereas the expectations appear to be high by the end of this year."
With the latest investment in cargo at Tema Port, the developments in air cargo seem to be on the slower side. However, with the new passenger terminal building at Kotoka International Airport in Accra - the future of air cargo seems certain. The new terminal would attract further business growth and in doing so the air cargo industry will benefit. There is also the implementation of the regulated agent programme, this could have a huge potential in the cargo business with the agents being able to secure their own freight and deliver the cargo completely ready for carriage and avoid any delays in screening. This would enable the agents to reduce their costs in handling and in turn could have the potential to increase their export volumes to their overseas clients.
With the state-of-the-art cargo handling equipment, Swissport Ghana is a 6,000 square metre facility having an automated storage retrieval system (ASRS) which can store up to 2,800 tonnes and has 2,000 euro skid positions available. In order to maintain the temperature requirements of cargo, the facility has three fridges on offer: a 137 square metre pharmaceutical fridge (15 - 25 degree) with temperature sensors and alert system; a 55 square metre cold fridge (2 - 8 degree) with the same system located in the import side of the facility and an additional 131 square metre fridge (various temperature ranges) for export shipments. It also offers a 152 square metre transit area for all shipment transiting Ghana for onward carriage to the western region, a 22 square metre bullion vault for the handling of valuable cargo for either export or import cargo. The company manages another facility called Air Ghana Perishable Centre (AGPC) which has been designed for the handling of perishable cargo being exported out of Ghana. The AGPC facility has a 165 square metre fridge, which can be set to various temperatures required for the different types of perishable cargo being exported.
While considering airfreight and sea freight exports, Kuehne + Nagel Ghana focuses on perishables and commodities. In the import business, they concentrate mainly on emergency and relief, FMCG as well as industrial and project logistics activities. It mainly caters to the European and the intra-region markets, such as South Africa and Turkey.
Technological advances
SITA, an information technology company providing IT and telecommunication services to the air transport industry, has been working with Ghana Airports Company Limited at Kotoka International Airport for several years, in both Terminals 1 and 2. They have provided baggage reconciliation solution and suite of airport management solutions, integrated into the airport operational database and the flight information display system. These solutions have helped the airport streamline its operations and improve the passenger journey.
Roger Nakouzi, VP-Sales, West & Central Africa, SITA said, "We have installed our state-of-the-art baggage management technology, helping airlines track bags every step, ensuring they meet IATA's Resolution 753 tracking requirements from day one."
For the new Terminal 3 which is complete and is scheduled to be commissioned later this year, the company has deployed their latest passenger processing technology, including common use check-in desks and self-service check-in kiosks, allowing the airport to maximise its capacity by enabling airlines to cost-effectively share the same infrastructure. On the operational side, SITA's Airport Management Solution will simplify planning and operational control, and facilitate collaborative decision-making, data management and analysis in Terminal 3 and across the entire airport. It will also support revenue management with its billing and reporting functionality.
Meanwhile, Swissport in line with the cargo requirements is always looking to invest into technology to assist in cargo handling to its clients. Keeping this in mind Swissport Ghana is no exception. "We have invested in hand held terminals (HHT) which assists the warehouse personal checking in the flight directly into our system and therefore minimising the breakdown time and making the cargo available for our clients faster. The HHT's are also connected directly to our customer portal, which enables us to monitor our performance live and against the Airline SLA's and Cargo iQ milestones, all in an effort to streamline our processes in order to provide a quick but accurate turnaround for all cargo handling in our warehouse. The ASRS located inside imports, is directly linked to our cargo handling system Cargospot, messages are transferred between the two systems, which enables a smooth transfer of data and in turn quick turnarounds of locating cargo for delivery to our customers," explained Goodsir.
Access the road of opportunities
Undoubtedly, Ghana's logistics performance and customs procedures are better than those of its regional peers. The country's infrastructure is generally moderate, but infrastructure development and improvements to energy supply remain central policy objectives. Ghana has an advanced infrastructure and logistics platform when compared with other low-income countries in Africa. But as it approaches the middle-income threshold, Ghana will need to focus on upgrading its infrastructure indicators in line with this benchmark. Like electricity, infrastructure presents a major constraint to growth.
Last year, Kuehne + Nagel Ghana opened its doors in the West African region with a unique presence in the market. The company has been focusing on building and solidifying relationships with current and new customers in the country, servicing both local and international businesses operating in the country and its neighbouring countries. Jeffrey Oppong, national manager, Kuehne + Nagel Ghana points out that since the opening, the company has explored and harvested successful synergies with their emergency & relief team in Copenhagen as well as with Kuehne + Nagel South Africa. These synergies enabled Kuehne + Nagel Ghana to further develop their local expertise and capture logistics opportunities aligned with the country's forecasted economic growth.
TPCI approbates the effort of the Ghanaian government for implementing 'one-district-one factory policy'. This policy will lead to an increase in productivity and hence job creation will be enhanced. It will also trigger productivity of labour, thereby leading to an increase in incomes.
With growth opportunities being witnessed, Ghana has become a great place to do business. This has fuelled the country's aviation industry which has observed significant growth over the past decade due to the discovery of petroleum and gas reserves, sustained domestic demand and the development of the tourism sector. The formation of the Ministry of Business Development last year clearly demonstrates the strength of the country's ambition and future growth potential. The continued investment in world-class airport infrastructure, such as the new Terminal 3, has further cemented Accra as an increasingly important regional hub.
In another move, the Republic of Ghana has signed a bilateral air service agreement (BASA) with the Republic of Rwanda in Kigali. The agreement will enable designated airlines of the two contracting states to operate international commercial passenger and cargo flights between both the states. Under the liberalised regime, there are no restrictions on aircraft capacity and frequency of flights.
Last year, APM Terminals Inland Services Africa has signed a memorandum of understanding (MoU) with the government of Ghana, and a non-profit road safety organisation Amend to ensure port access roads and highways that will handle the inland transportation are safe and able to handle increased traffic flow. The collaboration aims to improve road safety as part of government policy and safety culture in nearby communities as new port takes shape. Therefore, the construction of new port and logistics hub in Tema will have huge benefits for the Ghanaian economy and the livelihoods of Ghanaian people when opened in 2019.
Following the successful commercialisation of its oil reserves, Ghana is in a position to raise additional public funding for infrastructure from its increased fiscal receipts and thus to address the country's infrastructure needs.